I had published a couple cool plays with Eldridge Press -- "Aesop's Hop" and "Jt and the Pirates." I sent an email to the editor -- I think it was Chris Angermann at the time. Anyway, I asked him if there was anything in particular they were looking for. Chris said that they had some Greek Mythology stuff, but they didn't have anything about Norse Mythology
Well, I love all sorts of Mythos -- and while I prefer the Greek legends, I was in love with this book by Edgar d'Aulaires. "The d'Aulaires Book of Morse Myths" contained wildly imaginative illustrations and engrossing tales of mythic Scandinavia.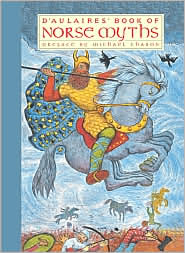 So, right away, I began to create "Vahalla." It was a comic merging of many of my favorite Norse myths. It had Baldur and Loki and Giants and monsters... and a few of my own characters, such as a talking horse named Gunther. And now here's where it gets weird -- if it wasn;t weird enough already. The story is entirely patterned off of my favorite Christmas movie: "It's a Wonderful Life."
I thought it was brilliant. Eldridge liked it too, so they published it. And for some reason it has only been performed once. So, to the drama club who is ahead of their time, I tip my Viking helmet off to Woodland Park Middle School, in Woodland Park Colorado.
Uff Da!